Chandra Gemstone Earrings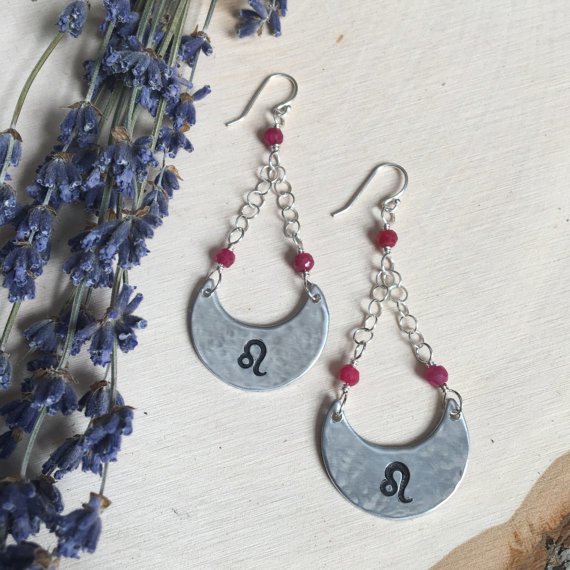 Chandra Gemstone Earrings
Named after Chandra, the Indian god of the moon and the father of Buddha
These hypoallergenic aluminum moon charms are chased and stamped by hand then p

ersonalized with your zodiac sign. Earrings are about 1 inch across and hang 2 1/2 inches long.

Accented with three wire wrapped gemstones and chain.

Choose your zodiac sign and gemstone accent beads. Chain, wire and ear hooks are all sterling silver.
---
OPTIONS

Zodiac Sign
Accent Beads: Choose your birthstone (or any you prefer) in high quality crystals or genuine gemstones.

January- Garnet
February- Amethyst
March- Aquamarine
April- Herkimer Diamonds & Moonstone
May- Emerald
June- Freshwater Pearls
July- Ruby
August- Peridot
September- Sapphire
October- Pink Tourmaline
November- Citrine
December- Turquoise
---
Feel free to
contact
me for a custom order, I have made these in all sorts of semi-precious and precious gemstone combinations and would love to do the same for you!
---
For best care, do NOT shower or swim in your jewelry. All Concetta Designs jewelry is packaged in a gift box and is shipped USPS First Class Mail with tracking.
---
©
Copyright Concetta Designs 2015-2016
---


Reviews