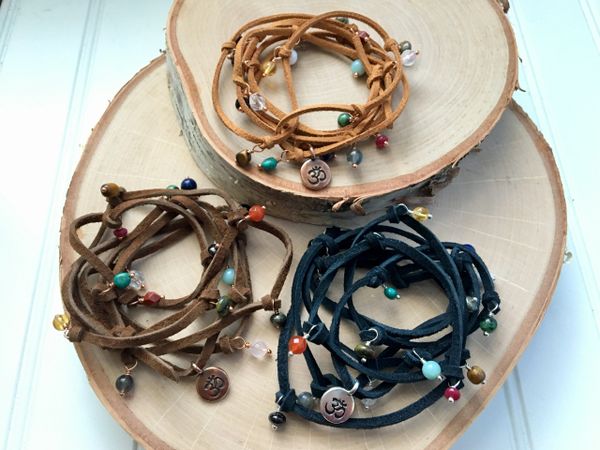 Power Wrap Bracelet
There are 18 gemstones in this wrap because of the symbolism in both Buddhism and Hinduism. The numbers 18, 108 are sacred. There are 108 beads in a Mala, there are 18 chapters in Bhagavad Gita, 18 Principal Insights and the 8 Fold Path which is the way to achieve Nirvana and end suffering. Wrap around your wrist, ankle if neck- carry it with you however you'd like. Radiate with Balance and Power!
Each gemstone is wire wrapped and knotted in rainbow order onto soft suede cord. The Om symbol is the most sacred mantra which is why it hangs in the middle of this wrap. It represents the union of the mind, body and soul.
Each wrap comes with a color coded card-  listing all 18 gemstones used and the healing attributes that are associated with each one.
OPTIONS
Cord:
-Black Suede
-Chocolate Suede
-Tan faux/ vegan Suede
Metal:
-Copper 
-Silver Plated 
For best care, do NOT shower or swim in your jewelry. All Concetta Designs jewelry is packaged in a gift box and shipped USPS First Class Mail with tracking.
To keep up with the newest designs, promotions and sales- please follow any of my social media pages!
Instagram: @concetta_designs
Facebook: Concetta Designs
---
©Copyright Concetta Designs 2015-2019
---
Reviews